A woman suggesting that non-parents should get extra paid time off if they don't take maternity leave has sparked anger on Mumsnet.
Posting to the site's Am I Being Unreasonable? (AIBU) forum on October 31, user Playfair said she didn't understand why moms get to take six months of paid maternity leave at her company, while child-free women only have an annual leave allowance.
Since being shared, the post has received over 1,000 comments from users slamming Playfair for comparing maternity leave to a "holiday."
'Motherhood Penalty'
Parenting expert and consultant Deborah Porter advises businesses and organizations on how to best support moms and dads in their workforce. She said that maternity leave is "not a vacation," but a chance for new mothers to bond with their babies and recover physically and emotionally.
"The time needed for the body to completely recover is months and in some cases, years, for abdominal numbness to subside after a c-section," she told Newsweek.
"Incisions, enormous hormonal shifts, the physical trauma to almost every part of your body both below and above the waist. Not to mention the emotional weight of the responsibility of a new life that is solely dependent on you.
"The thought that maternity leave is simply 'time off' and should be offered to any woman reduces the physical, mental, emotional and difficult postnatal lows that pregnancy leaves, as a day at the beach, which it is not."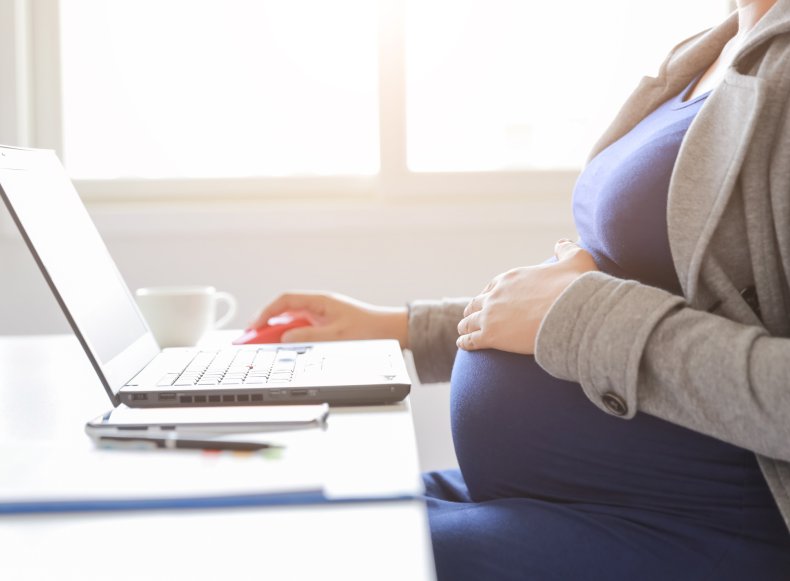 Porter said that new moms can also face a "motherhood penalty" upon returning to work after maternity leave.
"[This can include] assumptions that mothers are less competent and committed, therefore providing a lower likelihood of promotion (which leads to lower salaries)," she said.
"Simply being a mother, in many cases, feeds these assumptions and other types of workplace discrimination against women.
"Whether you are a mother, caregiver or have some other need, family leave should be there for when and if you need it. Making mothers and pregnant women the focus of our discontent will not solve the issue."
'Maternity Leave Isn't a Holiday'
In her post, Playfair said that she is "100% supportive of good maternity leave," and believes it is important to help mothers to maintain their career. However, as she never plans to have children or use her maternity leave allowance, she would love "a small amount of paid time off" in addition to her annual vacation time.
"To do some lengthy travel for example," she wrote. "I can't see why we can't have access to something similar if you haven't used any maternity benefit by a certain point.
"There would obviously be benefits for society & business from developing new skills, morale etc. As well as women in work contributing to economy and through taxation."
Many Mumsnet users took offense at the suggestion, accusing the poster of comparing maternity leave to a vacation. In the poll attached to the post, 78 percent felt Playfair was being "unreasonable."
"This is what holidays are for," said Itloggedmeoutagain. "Take your annual leave if you want to travel."
"I spent most of my maternity leave recovering from major surgery," wrote beonmywaythen.
"To compare a period of travel with caring for a newborn while recovering from pregnancy and birth is frankly insulting," commented roarfeckingroar.
"What you are looking for is a sabbatical or career break," said RubyRoss.
"The idea that women (but not men) without children should be entitled to extra leave is laughable.
"If you were arguing for better conditions for all workers people might get behind it, but the way you frame it is very selfish, sexist against men, and insulting to women on maternity leave."
Although, some users could understand Playfair's point of view, with mackthepony writing: "I do think extended periods of time off should be offered."
"Everyone (male/female) should get 2 lots of 'paid leave' of 6 months," agreed WorkerBeeeee. "What they do with it is up to them."
While MintJulia said: "Ask your employer if you can take a sabbatical.
"But bear in mind, 40% of mothers suffer discrimination, regardless of the maternity laws. So expect the same!"
Have you had a similar workplace dilemma? Let us know via [email protected]. We can ask experts for advice, and your story could be featured on Newsweek.