By Morris Gut
Day of the Dead is a public holiday in Mexico on Nov. 1 and 2, when villages gather to commemorate family members who are deceased. There are costumes, parades and rituals, but it has no relation to Halloween. It is actually a derivative of All Saints' Day.
It's an especially festive time to visit your favorite south-of-the-border eatery and take part in the customs, traditions and good food. It often starts with a good margarita or shot of tequila.
Here are a few suggestions.
Cantina Taco
Owner, host and actor John Solo, of bustling Cantina Taco & Tequila Bar in White Plains, is offering a three-taco lunch for $9.95, or you can choose one of their tasty quesadillas with steak, chicken or shrimp or a big burrito. A new street bowl is available with choice of protein for $8.95. It might be a good time for one of their frozen drinks, too.
Cantina is a playful, colorful restaurant. A bright aqua pastel façade attracts along Mamaroneck Avenue. They serve a bouncy menu of reasonably priced south-of-the-border fare. Try the new birria or cheeseburger tacos and house specialties such as carnitas, chicken mole, garlic shrimp and steak fajita.
Cantina Taco & Tequila Bar is located at 166 Mamaroneck Ave. in White Plains. Open seven days. Happy hours. Info: 914-461-3959 or visit www.cantinany.com.
El Barrio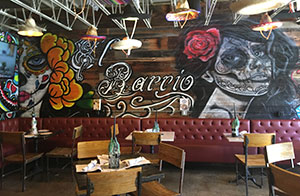 Chef and owner Sal Cucullo Jr. and partners have rebranded this vibrant eatery into El Barrio highlighting Mexican street food. There is indoor and outdoor seating.
There are knockout flavors and fine talent at work here, and a playful new design. Specialties at El Barrio ready for take-out, delivery and patio dining include Mexican street corn off the cob; calamares y camarones fritos (arbol aioli); traditional guacamole; wood-fired quesadillas; tacos and tostadas; the El Barrio Burger wrapped in a flour tortilla; and freshly-made south-of-the-border cocktails.
El Barrio is located at 185 Summerfield St. in Scarsdale. Info: 914-723-2600 or visit www.elbarriony.com.
Las Mananitas
This Mexican restaurant offers dramatic views of the East Branch Reservoir in Brewster and an outdoor patio for relaxing and picture taking. There are plenty of window seats and a dining area with a fireplace for comfort, too. They often have mariachi bands, a DJ and dancing and drink specials at their big bar.
Look for kitchen specialties El Aguacate (avocado stuffed with crab meat and shrimp); carnitas, which are three soft pork tacos; sizzling fajitas; and sinaloa (jumbo shrimp wrapped in bacon stuffed with Manchego cheese.)
Las Mananitas is located at 1250 Route 22 in Brewster. There is ample free parking. Info: 845-279-4646 or visit www.lasmananitasrestaurant.com.
Dining and Entertainment
Live entertainment is making a comeback. Here are a few current venues to check out.
Casa Rina
Casa Rina of Thornwood on Commerce Street is a 40-year-old throwback to the days when the Italian American kitchen reigned supreme. There are Sinatra photos on one wall with Marilyn Monroe pics highlight another.
Proprietor Tommy Stratis took over Casa Rina 20 years ago and has been doing his best to keep the creative juices flowing. The Italian classics include hot antipasto for two; manicotti; rigatoni with broccoli rabe and sausage; chicken scarpariello; a big zuppa di pesce; shrimp scampi; and, yes, veal saltimbocca.
Martinis & Meatballs at Casa Rina is held on Fridays from 7 to 11 p.m. It features $6 martinis and unlimited complementary meatballs with a DJ to boot.
Casa Rina is located at 886 Commerce St. in Thornwood. Info: 914-769-4515 or visit www.casarinarestaurant.com.
Pete's Saloon
Since 1977, Pete's Saloon in Elmsford has been serving up a hearty tavern menu along with big doses of entertainment. There is Thursday Night Karaoke and a calendar of live band performances and even a trivia night.
New owner Anthony Bartolotta took over from retiring founder Peter Riekstins last year and has promised to continue the popular format. You can continue to enjoy your jumbo pretzels, pizzas and big angus burgers while taking in the ambiance.
Pete's Saloon is located at 8 W. Main St. in Elmsford (at routes 9A and 119). Some free parking is available. Info: 914-592-9849 or visit www.petessaloon.com.
Trattoria 632
This restaurant is just a short drive from SUNY Purchase and Manhattanville College. There is a separate pizza bar with tasty pies and the kitchen serves up hearty Italian food.
Check out house specialties like the fresh beet salad; squid ink pasta; classic veal, chicken or shrimp parmigiana; or the organic roasted chicken. Includes a bar and lounge with Happy Hours. Live entertainment and dancing Wednesday and Thursday evenings. Ample free parking.
Trattoria 632 is located at 632 Anderson Hill Rd. in Purchase. Info: 914-481-5811 or visit www.trattoria632.com.
Curry on Purdy
Westchester's newest Indian restaurant offers karaoke every Wednesday starting at 7 p.m. The vintage bar and lounge that dates back to the 1940s makes for a fascinating venue to visit.
Curry on Purdy offers a large selection of meat and vegetable curry dishes along with specialties from throughout regional India. There is a Purdy Special goat curry; classic chicken tandoori out of the clay pot; rack of lamb seared in the clay oven; saffron shrimp tikka and vegetable biryani. Don't forget the wonderful house-baked Indian breads like garlic nan or onion kulcha. A daily lunch buffet is offered.
Curry on Purdy is located at 7 Purdy St. in Harrison. Info: 914-600-8500 or visit www.curryonpurdy.com.
Morris Gut is a restaurant marketing consultant and former restaurant trade magazine editor. He has been tracking and writing about the food and dining scene in greater Westchester for 30 years. He may be reached at 914-235-6591 or at [email protected].