Looking for foreign tourist destinations that you will visit when the holidays arrive? You must enter Spanish first. As a country in Europe, and included in the Schengen area, there are many reasons to decide on a vacation to Spain.
If you're a European resident, you're in luck. You can go to Spain by choosing to use a plane, private car, bus, or train.
By buying a plane ticket, you can quickly get to your destination by air. The price of a plane ticket from France to Spain (July, 2022) is around 196 Euro
By buying a train tickets Spain, it allows you to travel longer, but at a lower price. Also, you can enjoy a beautiful view of the land which is worth the time taken. You can also try using the Eurail France-Spain Pass. The cheapest version of the Eurail France-Spain Pass, which includes four days of unlimited travel for two months, will cost you around €246 per day of travel, while 10 days in 2 months will set you back €401 per day or trip.
Travel Requirements to Spain
Before traveling to Spain, walking the historic streets of Madrid, or adventuring in the city of Barcelona, ​​it is very important for you to comply with all the travel requirements that have been determined by local authorities. Some of them are:
Travelers must complete a health control form before traveling. You can do this via the website, or via the Spanish Travel Health app, which is available on Android and iOS.
After filling out the form, you will receive a QR Code. Be sure to download it, as you will have to show it via your smartphone or another electronic device when boarding your flight and upon arrival in Spain.
Present a vaccine certificate issued by the local government authority. This certificate must be issued at least 14 days after you received your last dose of the Covid-19 vaccine.
Currently, Spain recognizes vaccines that have been approved by WHO for emergency use, including Pfizer, Moderna, AstraZeneca, Janssen/Johnson & Johnson, Sinovac, and Sinopharm.
Only children under 12 years of age are not required to present a vaccine certificate.
Travelers will undergo a health security check upon arrival, starting from measuring body temperature, checking documents and direct visual inspection by officers.
5 Tourist Attractions in Pamplona, Spain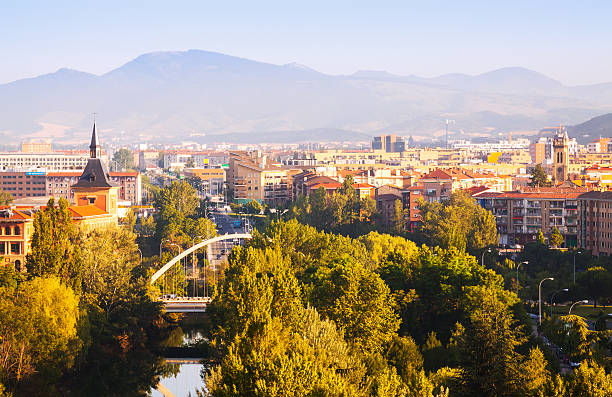 Located in the northern part of the country of Spain, Pamplona is a historic old town that is said to have been founded in Roman times. Today, Pamplona is famous for its many past-themed tourist destinations.
Several historical sites are very well preserved in this city. Like forts, churches, and parks, many of which date back to the Middle Ages
Ciudadela de Pamplona
This Renaissance-style fort with a star shape is an interesting sight in the center of Pamplona. The fort began construction in the 1570s when it underwent a major renovation in 1645.
Although regarded as one of the grandest fortresses of its time, Ciudadela de Pamplona never experienced a siege. Therefore, the building of this fort looks fine and very well maintained until now
Pamplona Cathedral
Pamplona Cathedral or Pamplona Cathedral was built in the 15th century and has a fairly important history. This place was once a Roman city, and it was the first Christian cathedral to be built.
However, when the Moors besieged the city, the Cathedral was completely destroyed. Only later after the city was recaptured, a more magnificent and grander Cathedral was built and survives to this day. Pamplona Cathedral itself has an authentic Gothic style.
Plaza del Castillo
Plaza del Castillo is the city's most famous square. Here the public and tourists spend time on weekends. It is located next to the old town, between the former medieval settlements of San Nicolas and Navarrería.
Therefore, the square is surrounded by many cool and beautiful scenery of Renaissance-style buildings. You can also easily find several cafes and small restaurants around Plaza del Castillo.
Iglesia de San Saturnino
Pamplona is truly a historic city in mainland Spain. The best examples of buildings in the city can be seen in the 13th-century Iglesia de San Saturnino, which is famous for its iconic tower.
This tall tower with brick walls can be seen from various corners of the city of Pamplona. This church, which also still adopts the gothic style, can be an alternative for your tourist destination when you are there.
Taconera Gardens
For those of you who are on vacation with your family and want to spend your time relaxing, Taconera Gardens is the answer. Located in the western part of Pamplona's old town, this garden is laid out in a French style and is surrounded by old walls.
In it there is also a small zoo that contains several animals such as deer to peacocks. In addition, the beautiful view of the Arga river will also be a treat when you are here.
Pamplona has many interesting tourist attractions to visit. The number of historic buildings that are still maintained is also the main attraction for this cave city.