I recently shared extra tips to help prepare for a cruise in the case that you have anxiety, and several comments from readers really hit home. So many people in the US, and globally, suffer from anxiety and other mental illnesses, and this can make vacation planning so tough.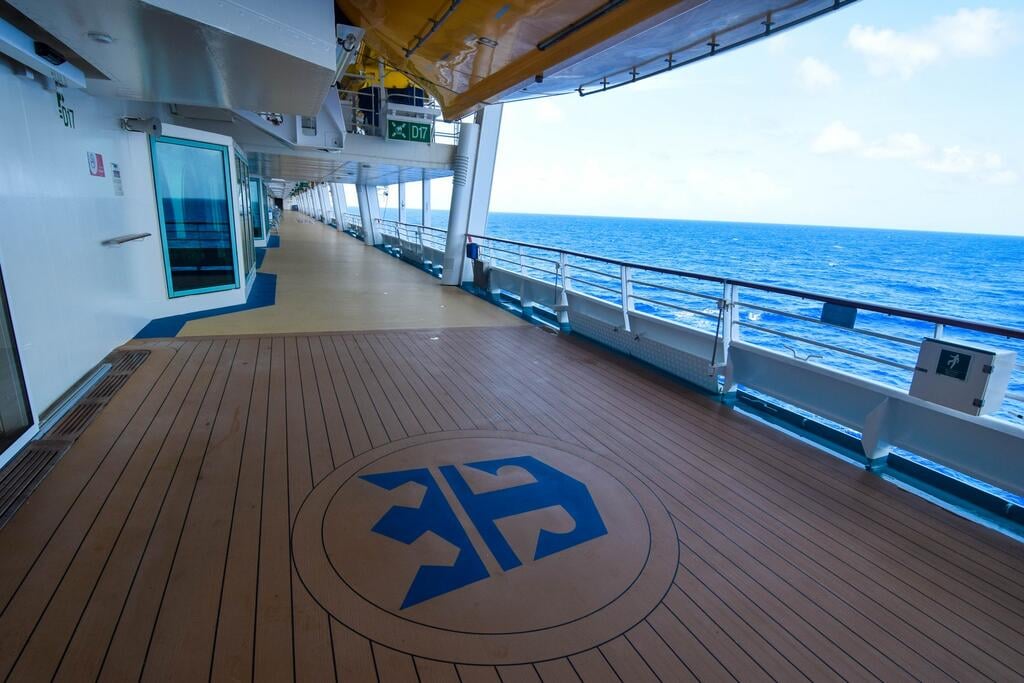 Why, though, if you have anxiety, would you want to plan a vacation where you're essentially stuck on a ship full of people in the middle of the ocean? Let's break down together the reason why this is actually a DREAM vacation, and not a nightmare scenario.
Financing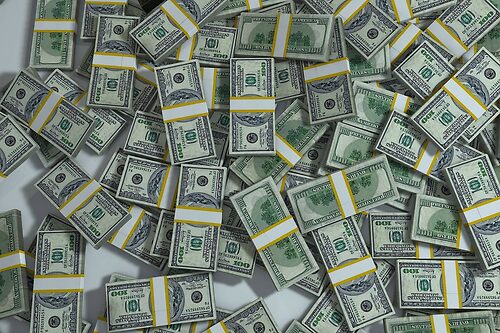 Let's start with the big one:  money.
I don't know about you, but nothing makes me feel more anxious than big expenses. Vacation is one of those–it's one of the few times a year we get to escape work, kick back, and not think about real life, so we want to make it as enjoyable and memorable as possible–and that costs money.
When we were "land-tripping," we'd save up for our trips, but because we had to open our wallet at every stop (gas station or flight, hotel, restaurant, tourist trap, etc), the anxiety about how much we were spending never left me. I was constantly calculating how much we were spending, ordering the cheapest thing on the menu, forgoing that glass of wine with a romantic dinner, skipping out on places we wanted to go because it was the end of the trip and we were cashed out.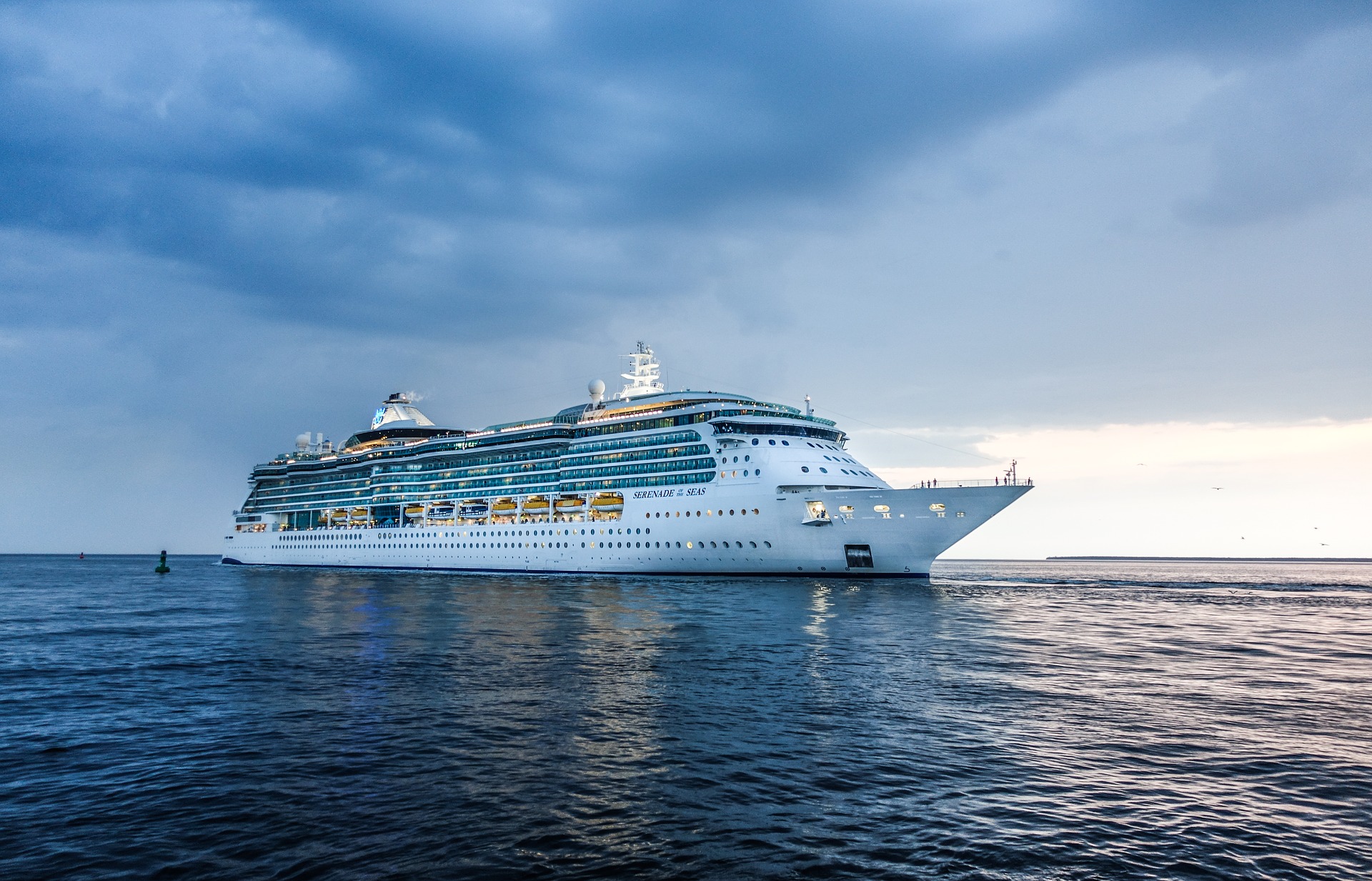 With a cruise, we start planning at least a year in advance. A deposit goes down, and we can set a payment plan and add it to our monthly budget right up until Final Payment Date.
Along the way, there are sales on excursions, drink packages, internet, etc that we watch out for. That way, we don't have to buy everything all at once.
We also usually put it on a credit card, so we can earn points. By this point (I have under a month left to my next cruise!), the only thing I have left to pay for are some cruise wardrobe refreshes, and toiletries.
Once I get on the ship, we will carry cash to tip our favorite bartenders and waitstaff (most gratuities are included), and we will have a few minor expenditures in port, but mostly, there aren't any money worries. I can totally relax in that sense.
Planning
While we are on the subject of planning, you can do as much of that before the trip that you want, as well.
Like I said, there are always sales for excursions well in advance of the cruise, so we will sit down and figure out what we want to do in port. Is it a beach stop, like Coco Cay & Labadee; or a tour port like San Juan? Do we want to just walk around and do our own thing, or actually purchase an excursion? We are even staying on ship for one of the ports this time.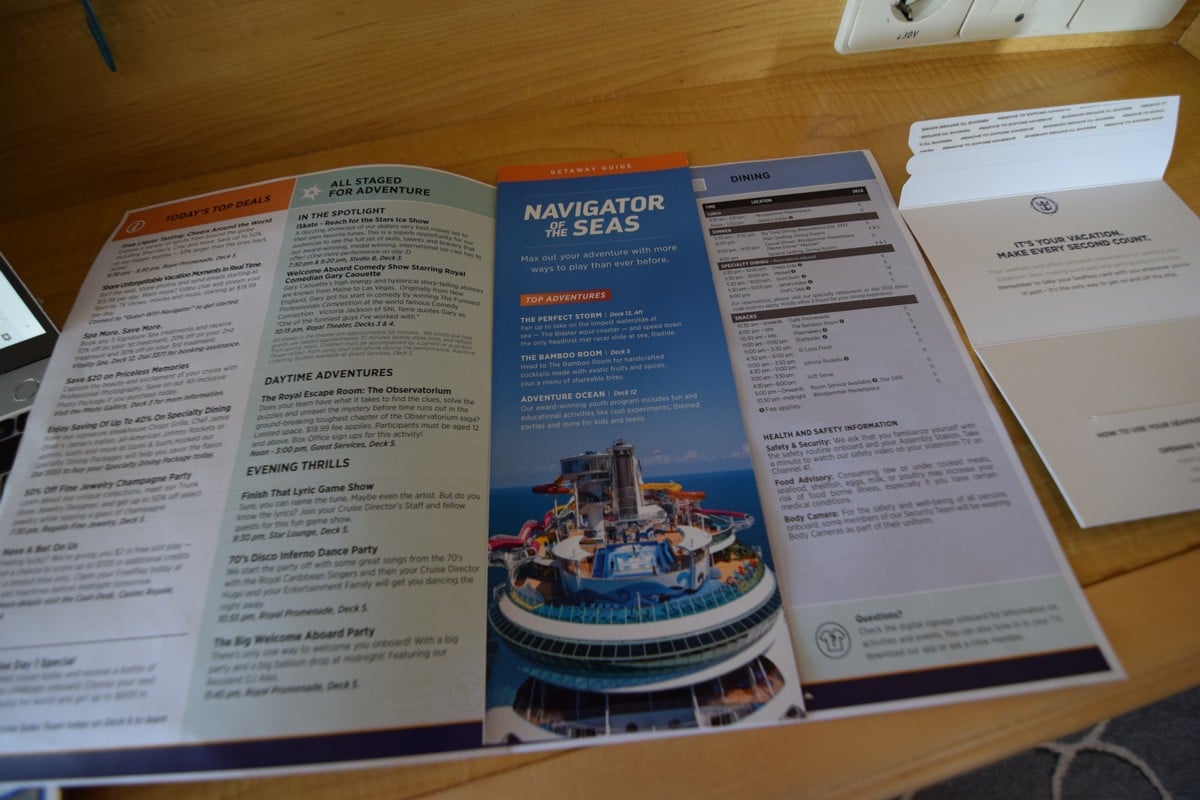 There's also plenty of activities on ship too! You can plan a trip to the spa, or a galley tour. What shows do you want to see? Some entertainment you can't fully schedule beforehand, but looking at past Cruise Compasses from similar sailings can help you feel less overwhelmed by all the activities when you are onboard.
Remember, your Sea Day plans can always change. Leave some room for spontaneity–you may end up spending 3 hours drinking chocolate martinis on the Rising Tide with a fellow cruiser, instead of going to that trivia game you planned on…not that I know from experience or anything. 
There's more space than you think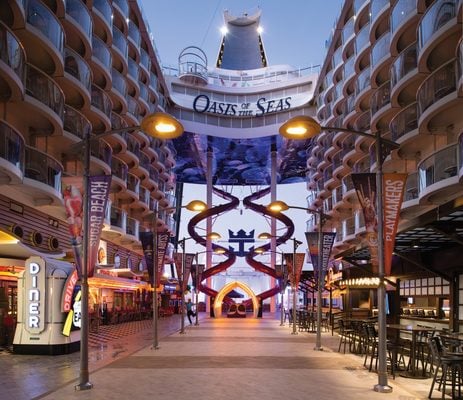 The number one thing I hear from fellow anxious travelers, when I mention cruising, is this:  "I could never do that, I'd be so claustrophobic, being surrounded by water, on a boat with thousands of other people." And I cannot blame them, because that's exactly what I thought when Mr. Mills approached me with the idea for our first cruise. But these ships are huge. Small cities, really.
Royal Caribbean is a master of traffic control, so there are very few times you will be in a crowd. There's only two times I can think of when I have felt overwhelmed by a crowd on a ship: 
Muster Drill, which was in the Pre-COVID days when we all had to gather in the same area for the safety information. Now it's on your phone, so that is no more
Getting off the ship first thing in the morning on a busy port day. That's easily remedied by waiting an hour or two after the gangplank opens, but Mr. Mills and I are early risers, so I mostly just grin and bear it.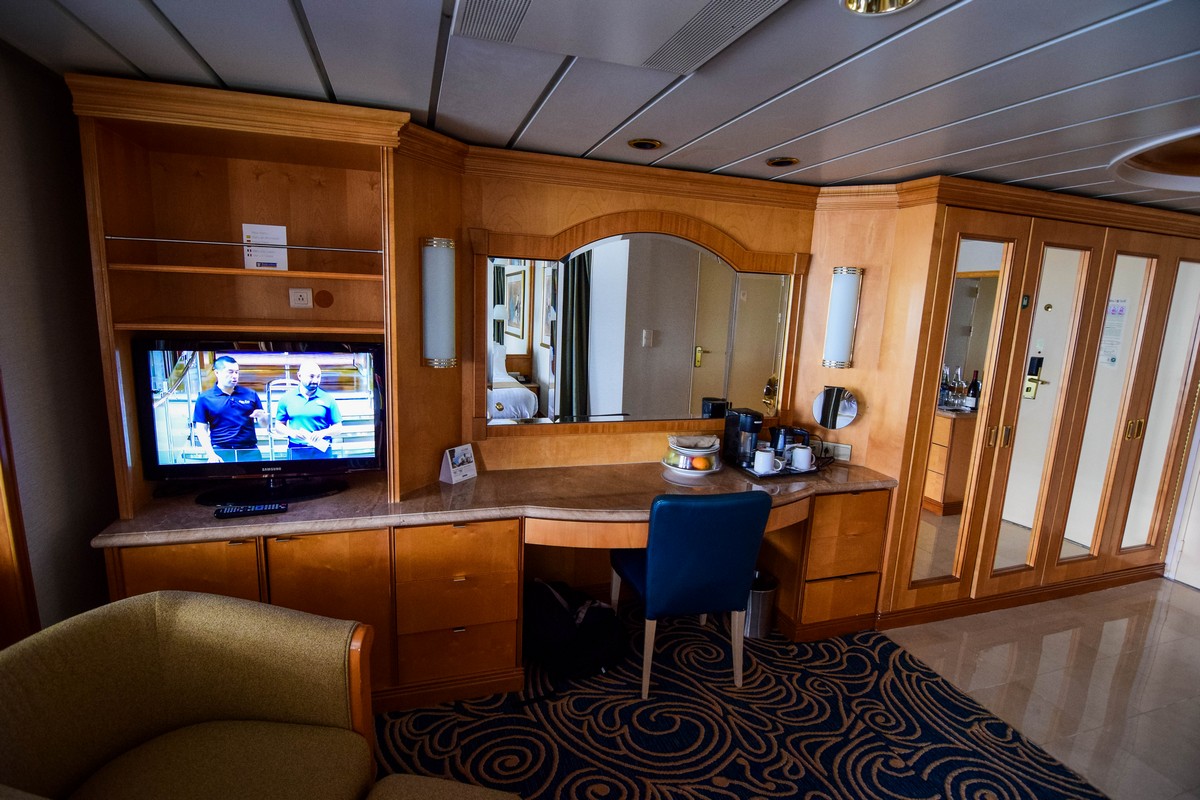 As for the ocean, it was a little intimidating the first time out. We like to keep the live ship tracking map up in our stateroom, so we can see where we are. This helps because I can see what islands are around us at any time. You almost always can see other ships off in the distance too, so you rarely feel alone.
By the end of that first cruise, I was totally in love, and now I find the ocean so peaceful. I crave that peace when I'm away from it, and it's been a VERY long 2 years.
Travel with a home base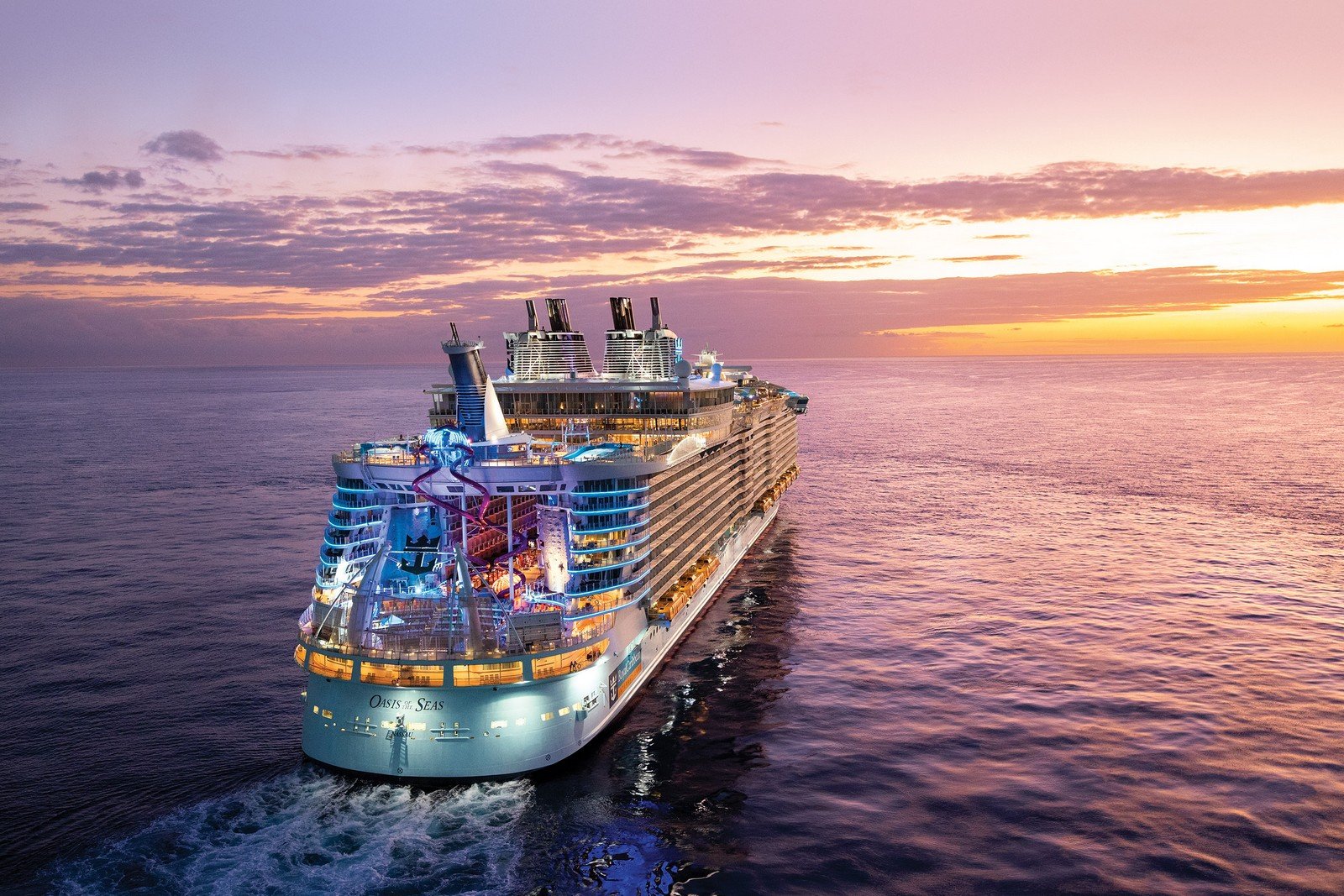 Cruising is one of only two vacations that I know of (RVing being the other), where you travel with your own home base.
Imagine visiting three different countries in a week, but never having to move hotel rooms, drive between them, check customs between each country, etc. Instead, you have one giant floating all-inclusive resort that takes you there.
So often with anxiety, we get in our heads that these big trips aren't worth it, because they are so overwhelming. But because you have a place to go back and rest, it makes it so easy! There are often days where I will go out to port in the morning, come back and take a nap, and then find some fun activity to do in the afternoon before dinner. 
Staff prepared to help you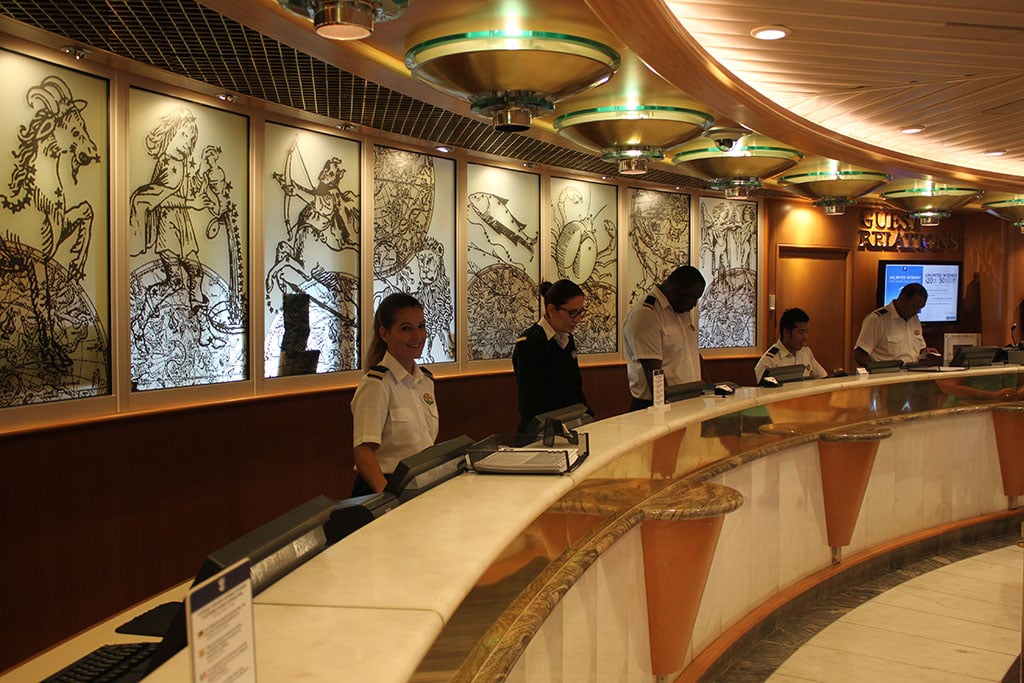 Lastly, Royal Caribbean's staff is the absolute best I've ever come across in the service industry. They make you feel at ease from the moment you step into the terminal. If you have any concern, they will do everything they can to put it to rights.
As anxious people, we naturally have a tendency to avoid asking questions or causing a stir if something isn't to our liking, but I have found every single person to be extraordinarily helpful and genuinely kind. The staff wants you to enjoy your vacation, and they will do what they can to make that happen.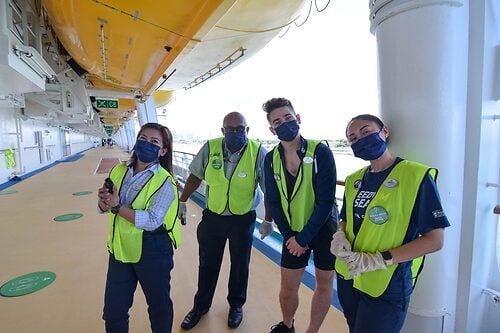 I did not want to go on our first cruise. I tried to get Mr. Mills to book an all-inclusive resort instead, but we had a special deal for Royal Caribbean. I was so nervous, and was sure I was going to be miserably anxious and overwhelmed the entire time. I came out of that experience not only happy we went, but absolutely in love with cruising.
In my opinion, it is the best vacation someone with an anxiety condition can take, because there's so much preparation that is done to make sure you have a good time. Give cruising a chance, and come back and tell me how it goes! I can't wait to hear from you!
https://www.royalcaribbeanblog.com/2021/11/03/why-cruises-are-great-people-anxiety